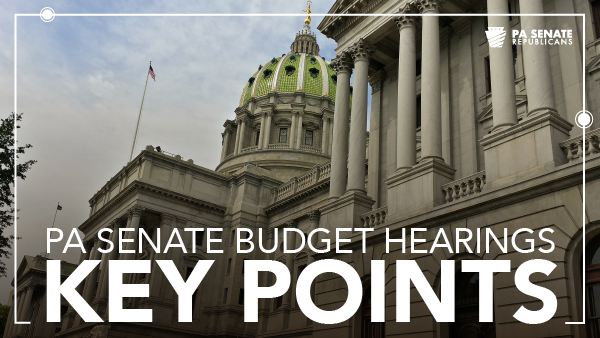 HARRISBURG – The Senate Appropriations Committee today began the first of three weeks of public hearings on the proposed 2023-24 state budget.
Gov. Josh Shapiro's $45.8 billion plan seeks to boost state spending by more than $1.3 billion above the current year's budget, including hundreds of millions of dollars that backfill federal funding that was cut by the Biden administration at the end of the COVID-19 public health emergency.
Independent Fiscal Office
Revenue estimates and the health of the Rainy Day Fund were the focus of questions for Independent Fiscal Office Director Matthew Knittel, who said uncertainty at the national level has made it more difficult to make economic forecasts. Uncertainties include instability in the banking sector, debt ceiling debates in Washington and the pending legal challenge to student loan forgiveness.
Committee chair Sen. Scott Martin (R-13) and other members voiced concern over the IFO's projection of annual structural deficits of more than $2 billion a year for the next five years if the governor's budget is adopted. The state's Rainy Day Fund, which was built up to $5 billion thanks to Senate Republican spending restraints, should be even larger, according to experts. Committee members noted it would be almost completely depleted by 2027-28 under the governor's spending plan.
Also discussed were the impact of a new Regional Greenhouse Gas Initiative tax on already rising energy prices and the ongoing demographic challenges Pennsylvania faces with its aging population and work force.
Senator Martin on the Rainy Day Fund, RGGI and Economic and Demographic Challenges
Video Highlights
Department of Revenue
Acting Revenue Secretary Pat Browne was asked about administration revenue projections and the importance of Corporate Net Income Tax reductions as a way to spur economic growth and job creation.
The proposed expansion of the Property Tax/Rent Rebate Program will take an additional $150 million from the Pennsylvania Lottery Fund. Several committee members questioned department officials about ideas for increasing lottery revenue. The implementation of PA EDGE tax credits and the health of the Rainy Day Fund, and differences in revenue projections between the department and IFO were among other topics discussed.
Video Highlights
You can find the hearings schedule, livestreams, daily recaps and video from prior hearings at PASenateGOP.com.
CONTACT: Jason Thompson