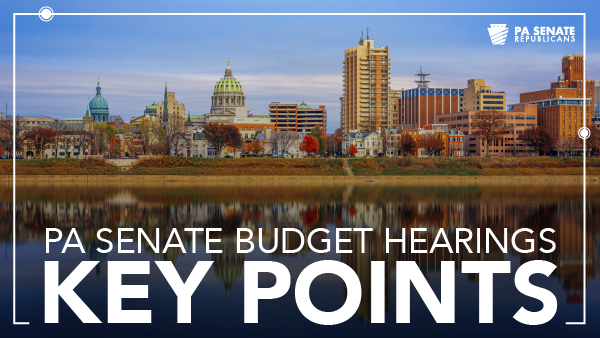 HARRISBURG – The Senate Appropriations Committee, chaired by Sen. Scott Martin (R-13), continued public hearings on the proposed 2023-24 state budget Tuesday with the Pennsylvania Treasury and the Department of Conservation and Natural Resources.
Gov. Josh Shapiro's $45.8 billion plan seeks to boost state spending by more than $1.3 billion above the current year's budget. Projections indicate it will nearly wipe out the state's Rainy Day Fund in five years.
PA Treasury
Treasurer Stacy Garrity testified that, with the national economy possibly facing recession, Pennsylvania has a choice: spend modestly now, or face a possible fiscal cliff as federal funds dry up and the Rainy Day Fund is depleted. She noted that Pennsylvania's credit rating could be improved by reducing the structural budget deficit and boosting the Rainy Day Fund.
The committee also discussed the performance of the PA 529 college savings program and PA ABLE savings program for Pennsylvanians with disabilities. Getting more unclaimed property into the hands of citizens and protecting state investments were also topics covered.
Senator Martin on the Importance of the Rainy Day Fund, Responsible Budgeting and More
Video Highlights
Department of Conservation and Natural Resources
DCNR is requesting a bigger budget while failing to take advantage of current revenue opportunities. Several committee members joined Senate Environmental Resources and Energy Committee Chair Gene Yaw (R-23) in noting that by refusing to allow non-surface disturbance leases for natural gas, DCNR is passing up revenue that could fund recreational programs and services across the state.
Secretary Cindy Dunn was also questioned about DCNR policies inhibiting efforts to connect more Pennsylvanians to broadband. Also discussed were invasive species management, the department's readiness to implement carbon sequestration technology, the success of a program of ATV trails on state lands and other topics.
Video Highlights
You can find the hearings schedule, livestreams, daily recaps and video from prior hearings at PASenateGOP.com.
CONTACT: Jason Thompson